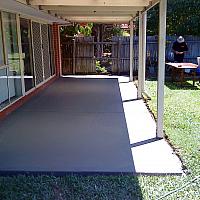 Having a patio installed can turn an unsed space into a fully fuctional and usable outdoor area. Add your BBQ and an outdoor table and chairs and you have ample space to entertain guests or dine out doors in those summer months.
Plain concrete patios are a great, affordable way of extending your living area.
Other options become available when installing a plain concrete patio.
For example (as your budget permits) you could tile the patio area or covacrete the entire area which will enhance your our door living experience.